Welcome to Insulwise's case study pages!  We made these to give home owners an idea of the types of energy efficiency and comfort enhancement results they can expect to receive from hiring the Insulwise team to re-insulate their home.  The concept of creating case studies for specific types of homes is not only unique to Pittsburgh, but the entire insulation industry in general.  You will not see these from any other insulation contractor!  What gives us confidence we can achieve these results?  Three things:
The experience that comes with having re- insulated over 1,000 homes in the area since 2008.
Our use of applied building science principles that comes from the owner, Andrew Haak's, background as an energy auditor and credentialed building performance analyst (from the Building Performance Institute, BPI).
Before and after analysis of many of our customers utility bills over the years. In short, we'll crunch the numbers, dot the i's, and cross the t's to deliver you the best results of any insulation company in Pittsburgh!
Insulation Case Study: Modern Patio Home in Cranberry, PA
Background: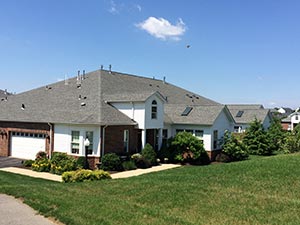 This patio home, built in 2009 had a number of issues that troubled owner Mike S.  The home seemed to heat up very quickly in the summer time, requiring the air conditioner to run steadily (and expensively) throughout the day.  Mike also noticed that for being a newer home, his heating bills seemed a good bit higher than they should have been.  Lastly Mike noticed cold drafts in parts of his home during the winter months as well as extensive icicles (always an indicator of poor insulation).
Energy Efficiency & Comfort Enhancements Completed:
Completely air sealed the attic floor.
Recessed can lights were all "boxed" to stem massive air leakage.
Duct work in attic encapsulated in spray foam to seal it tight and insulate it far better.
Original blown fiberglass insulation improved by top-coating with 8" blown in cellulose insulation to achieve a uniform R-49 insulation layer.
The Process:
Making the Home More Energy Efficient: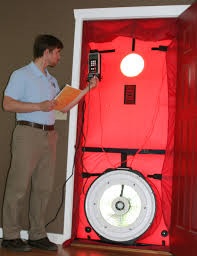 As is our standard practice for determining the underlying causes of the issues home owners are experiencing, we started with a free and in depth energy & comfort evaluation of Mike's home.  As always, this starts with a blower door test.  We use a blower door, in concert with the use of a "smoke pencil," to identify many of the sources of air infiltration and energy loss in a home.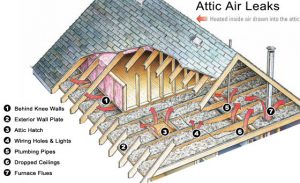 When we did this, we found many sources of air leakage that originated in the attic.  To provide a context for what we mean by air leakage in an attic, have a look at the diagram below.  These are some of the many ways that conditioned air (heated and cooled) escapes your home year round.  Air leakage is not only a huge waste of your energy dollars, but also a significant source of cold drafts and hot spots in many homes!
What we Found and How we Fixed it!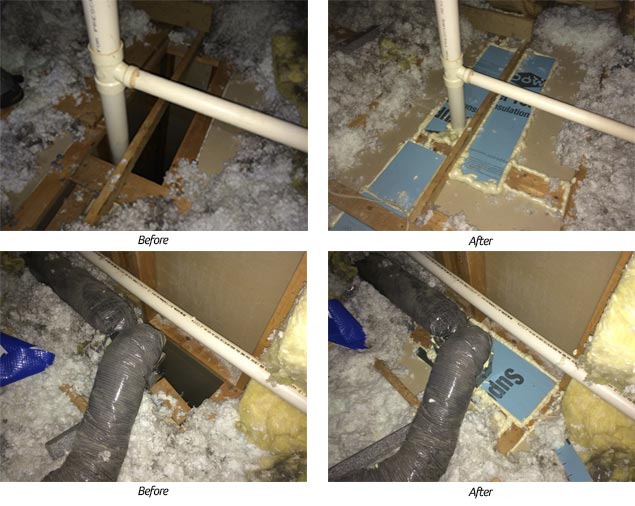 "These are the types of massive air leakage sources that are often hidden beneath insulation in newer homes.  You can rarely find them without digging through the insulation a bit, but trust us they are sapping your home of valuable energy dollars year round.  We cap large holes like this and seal them with spray foam EVERY TIME before adding additional blown in insulation.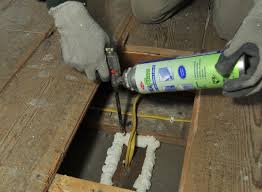 In addition to the larger air leaks that we'll be sealing when we visit your home, we also seek out and seal ALL of the smaller ones, such as leaky top plates, wire holes, ceiling fixtures that penetrate your drywall ceiling, plumbing pipes, etc.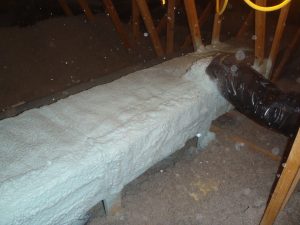 Once the attic floor was completely air sealed, we then used spray foam to seal and insulate the duct system in the attic.  This had previously been a huge energy loser because when ducts leak in an attic, the conditioned air (heated or cooled) carried by them leaks directly to the outside!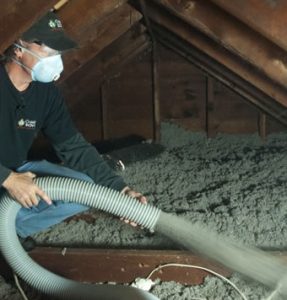 The last thing we did in the attic was blow an additional 8" of cellulose on top of the existing fiberglass insulation.  The finished result was a thick, efficient uniform layer R-49 insulation throughout the attic.
The Results?
The result was that we reduced air infiltration into Mike S's patio home by a tremendous 37%!  We confirmed this with a final blower door test at the end of the process.  The huge reduction in air leakage, when coupled with tighter, better insulated ductwork and a much thicker layer of cellulose insulation created a reduction in his heating and cooling bills approaching 30%!  Talk about a return on your investment!  He also saw a reduction in icicles and improved comfort in his home year round. But don't take our word for it, see what Mike had to say on Angie's List below!
Member Comments:
A three-member work team led by Jake arrived at my residence shortly after 9:00 a.m. on April 22, 2015.  Owner Andy Haak arrived shortly afterwards.   Jake made an interior inspection of my residence (after removing his shoes) to insure he had the location of all 18 recessed ceiling lights and the location of all ceiling HVAC vents.   The work progressed smoothly.    The work team cleaned up and thoroughly vacuumed the garage and furnace and utility rooms of my residence at the conclusion of work on both days.  They also vacuumed my driveway and landscape areas to collect cellulose insulation that escaped the truck at the end of day two.
Andy asked me to join him in a final visual inspection of the work performed in my attic.  I was impressed by the thoroughness of the job.  I liked seeing the insulation level now at a uniform sixteen inches.  I also appreciated the easy to close attic entrance hatch constructed.
The concluding blower door test showed a 37% reduction in air infiltration achieved by Insulwise's actions.  As a result, I expect to save approximately 25-30% annually on natural gas and electricity for heating and air conditioning.  I may save even more as a result of the added attic insulation and I will probably see a significant reduction in ice build-up at my roof eaves next winter.
I strongly recommend Andy, Xavier, and their team for their professionalism and the quality of their work.   Finally, I would caution that adding additional insulation without insuring your HVAC ductwork is tightly sealed and that air infiltration into the attic through your interior walls and recessed ceiling lights has been addressed is not a good investment since the warm air (or cool air in the summer) escapes through the insulation.
Cost:
We do not include costs for our jobs here because of the many variables involved in pricing each home. We typically estimate a payback time of 2-5 years for most homes that we work on, given the substantial reductions in energy bills that most often result from our work!  So call us today for a free energy and comfort analysis of your home!