Welcome to Insulwise's case study pages!  We made these to give home owners an idea of the types of energy efficiency and comfort enhancement results they can expect to receive from hiring the Insulwise team to re-insulate their home.  The concept of creating case studies for specific types of homes is not only unique to Pittsburgh, but the entire insulation industry in general.  You will not see these from any other insulation contractor!  What gives us confidence we can achieve these results?  Three things:
The experience that comes with having re- insulated over 1,000 homes in the area since 2008.
Our use of applied building science principles that comes from the owner, Andrew Haak's, background as an energy auditor and credentialed building performance analyst (from the Building Performance Institute, BPI).
Before and after analysis of many of our customers utility bills over the years. In short, we'll crunch the numbers, dot the i's, and cross the t's to deliver you the best results of any insulation company in Pittsburgh!
Insulation Case Study: A Contemporary 2 Story Home
Background: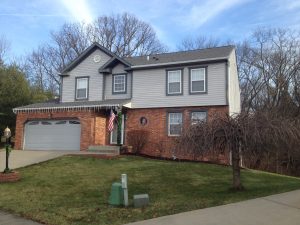 After a year or so of living in their recently purchased, 2 story contemporary home, Mark M. and his wife noticed that their home had some issues.  During the winter, the upstairs bedrooms were cold, and the front of the house always had ice dams and icicles.  And during the summer, their air conditioner needed to run almost constantly to keep the house cool!  Lastly, the home seemed to acquire dust build-up more quickly than normal.
Energy Efficiency & Comfort Enhancements Completed:
Whole Home Air Sealing
Attic Insulation Improved to R-49 with Blown in Cellulose Insulation
Basement Ductwork Sealed
Rim Joists in Basement Spray Foamed to Air Seal & Insulate
Existing Attic Hatch Fitted with R-10 Insulated Foam Board
Bathroom Fans Upgraded to Quiet, High Volume Fans & Vented to Outside
Raised Storage Pad Built in Attic to Store Knick Knacks
Home Problems & Solutions: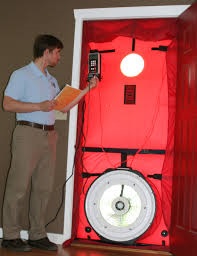 During our initial free blower door test, we found that a tremendous amount of outside air was easily infiltrating into the home.  And strangely, much of it was coming from the main return duct in the middle of the home.  Upon inspecting the attic, we found that the central return duct for the home was literally open to the attic! It had been covered with only a piece of fiberglass insulation after construction!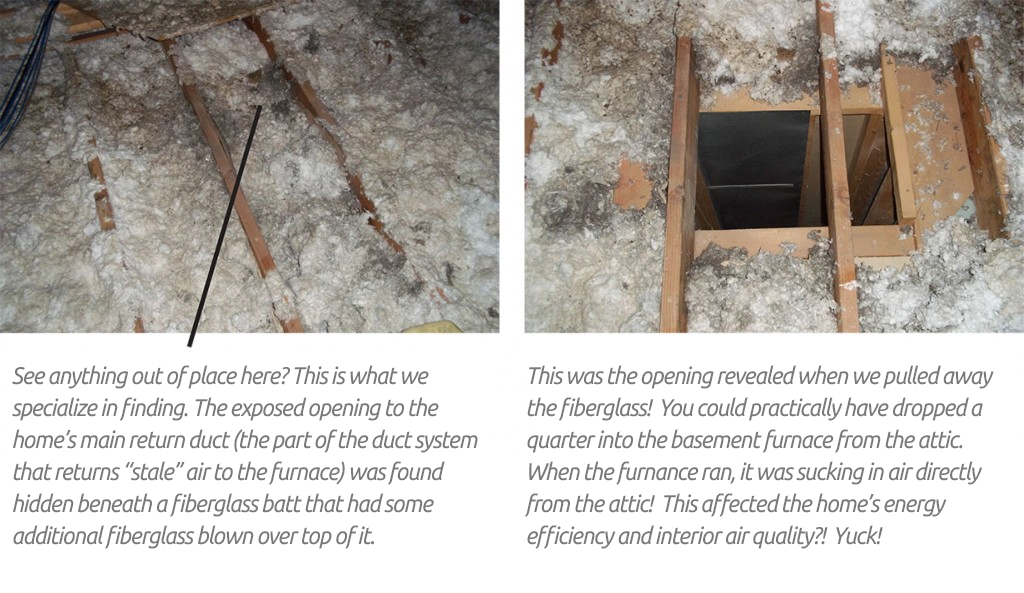 Therefore, when the A/C or furnace was operating, a great deal of air was being supplied to the system directly from the attic.  This was awful for the home's interior air quality, energy efficiency, and comfort!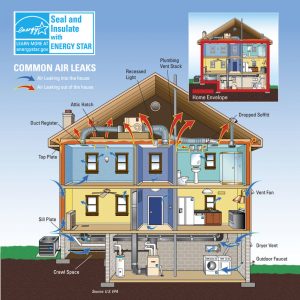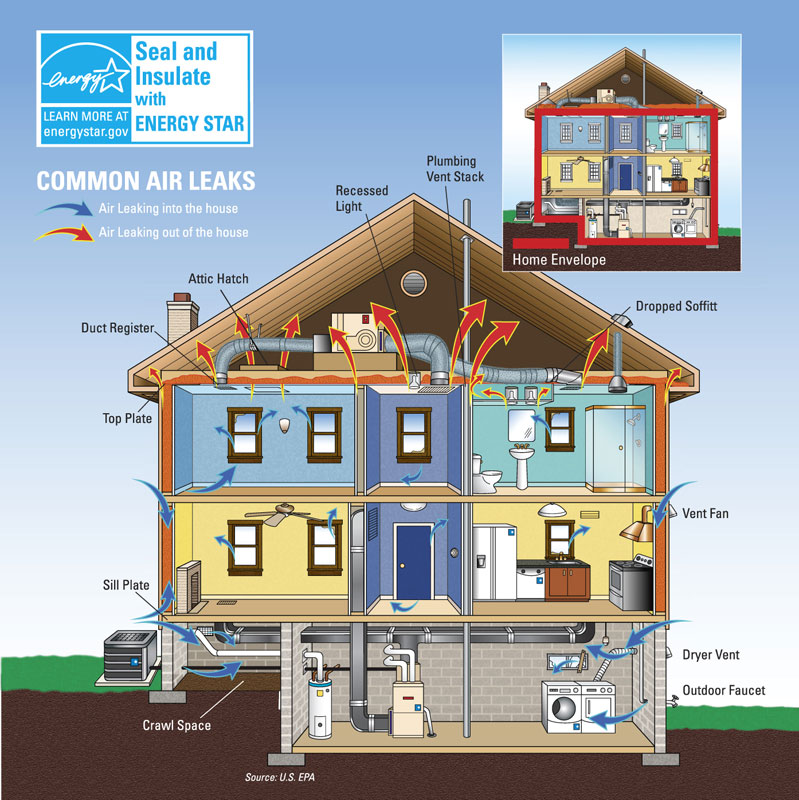 There were also air leaks all over the attic floor such as wire holes, plumbing pipes, leaky top plates, etc.  In all homes, when the air inside is heated, it rises and escapes from the top of the house. As this occurs, outside air is sucked into the home to replace what is being lost from the top.  You often feel this as a draft, but the phenomenon itself is known as "Stack Effect."
Lastly, the depth of the attic insulation was only about 7 inches, far short of the recommended 15" (to achieve an R-49 insulation rating).
Finally, we inspected the basement and found that the rim joist area of the home was permitting a large amount of air infiltration as well.
How Did These Issues Get Fixed?
The first thing we focused on was sealing all of the air leakage points in the attic. This involved first tracking down, then air sealing every wire hole, ceiling fixture, bathroom fan, plumbing pipe, etc that we encountered using spray foam.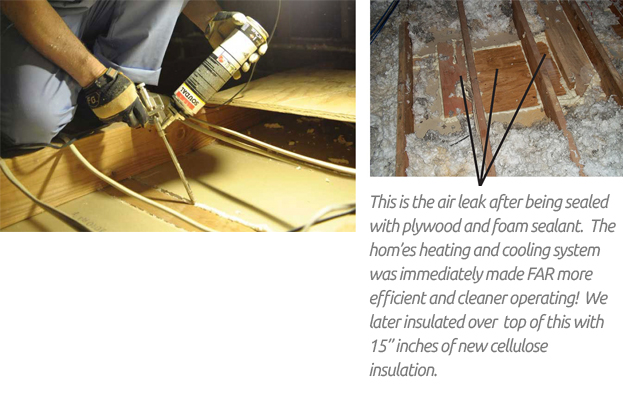 We then had to seal the large opening where the home's central return for the HVAC system was open to the attic. Lastly we added 8"inches of blown in cellulose insulation to achieve a uniform 15" (R-49 rating) throughout his whole attic.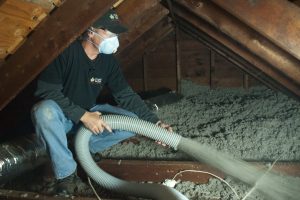 When it came to his basement, we used spray foam to spray an even 2" inches of closed cell foam onto his rim joists.  This not only eliminated the air infiltration at the bottom of his home, but also made his basement much more comfortable year round.
What were the Results?
Since doing the work, Mark has seen his bills for heating and cooling drop by close to 35%, but why don't we let Mark M. tell you himself.  Below is the review that he posted on Angie's List after we performed the work.
"I am more than pleased with my experience and the work Insulwise (Andy Haak) performed for my home.  I reached out to Andy because of the issues I was having with the comfort level and ice damming that I had been witnessing year after year.  Andy was the most proficient contractor I spoke with to explain the why behind the issues I was experiencing, and what solutions were available to solve the problem.  I am sure Andy can explain in better detail, but he and his team were able to air seal and insulate my attic space and basement.  He also made several other repairs to my HVAC supply and return ducts, bathroom fans, and attic opening.
They measured the air infiltration for my home before and after repairs by providing a free blower door test, and Insulwise was able to document a 60% reduction in outside air infiltration!  In short, my wife and I immediately noticed a difference in how how our home felt.  The hot and cold spots were gone, and our home felt comfortable.  I wasn't sure in the beginning if I would really feel a difference, but it was truly amazing.  This money was well spent.  Andy and his team at Insulwise are professionals that were courteous and respectful to my family and home.  If you feel uncomfortable in your own home, give him a call! "
Cost:
We do not include costs for our jobs here because of the many variables involved in pricing each home.  We typically estimate a payback time of 2-5 years for most homes that we work on, given the substantial reductions in energy bills that most often result from our work!  So call us today for a free energy and comfort analysis of your home!